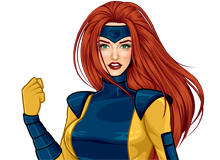 This game was a collaboration with Doll Divine and because of that the game turned into an amazing character creator in which you have endlessly options, mutations, you can create a scene maker, a cover magazine, your favorite X-Girl character or your own and much more. The game has excellent graphics, the colors are well chosen and make the game even more attractive. The game is very fun to play and I really recommend it to doll and fashion game lovers. Just take your time and enjoy it!
How to use "Brush Mode": Click on "BrushMode", then click on an item to turn it into a STAMP! Then simply click anywhere on the doll where you'd like the item to appear. You will not be disappointed with it.
why do the midriff options in the waist tab still end up covering the whole character's body?