Vampire Doll Avatar Creator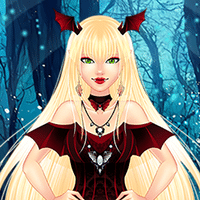 Welcome to the world of Vampire Doll Avatar Maker! Here, your dreams can come true as you create a vampire character that is entirely unique to you. From selecting clothes and shoes to picking out hairstyles and accessories – with this doll creator game, the possibilities are endless.
The first step in creating your own vampire avatar is choosing what species it will be. You have a variety of options such as classic vampires, modern-day vampires, or even ones inspired by literature. Whatever you decide upon will determine what kind of clothing they'll wear and how they'll look overall.
Once that's done, it's time to select which enchanting items they will carry around with them; fang necklaces, silver rings adorned with rubies and sapphires, head accessories featuring intricate designs - the list goes on! With these accessories in hand (or rather in claw), your character can really start looking the part of an undead creature from beyond the grave.
Now for their outfit: long cloaks? Maybe some tight leather pants? Or perhaps something more traditional like a dinner suit? The choice is yours! You can mix-and-match whatever pieces you like until you find something that fits perfectly within your vision for your avatar's aesthetic style.
But wait - there's still one more thing left before we're finished – where does our vampire live? There are many amazing places available ranging from large castles situated atop mountain peaks all the way down to humble cottages nestled deep within dense forests – all waiting for someone special such as yourself to make them feel homely once again!
At last when everything has been decided upon - click Next - then watch as your creation comes alive right before your very eyes! Congratulations on making an incredible new friend who just so happens also reside outside of reality - a piece of art crafted solely by yourself through imagination alone. Welcome aboard fellow traveler - let's explore together now shall we? We hope you'll enjoy this cool doll creator game. Don't forget, we are waiting for you with new girl games created with love and passion for players like you.