Tropical Vacation Destination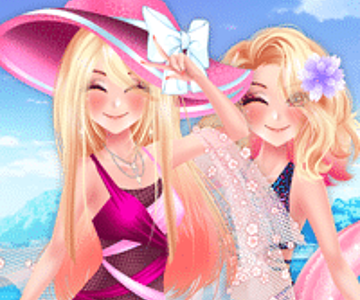 Hey there! Welcome to Tropical Vacation Destination, the ultimate dress-up game for all the fashion-forward teens out there! Get ready to embark on a stylish adventure as you create three exceptional outfits for our jet-setting model who's off to explore exotic destinations like the Maldives, Bora Bora, and Bali. Are you up for the challenge?
First stop, the Maldives! Our model needs the perfect beach ensemble to soak up the sun and dive into the clear blue waters. Choose a trendy swimsuit that reflects her unique style. Complete the look with a cute beach cover-up and don't forget the must-have accessory: a colorful inflatable pool float. Let's make sure she's ready to lounge in style and make a splash!
Next, it's time for a beachside dinner in Bali. Our model needs an outfit that captures the bohemian vibes of the island while keeping her beach-ready. Pick out a chic swimsuit that can double as a top and pair it with a flowy sarong. Add a wide-brimmed hat to shield her from the sun and some statement jewelry to elevate the look. With this ensemble, she'll be the epitome of beachy elegance!
Last but not least, we're off to Bora Bora for a thrilling day of surfing. Our model needs an outfit that combines fashion and functionality for riding those waves. Select a stylish surf suit that hugs her curves and choose a vibrant surfboard to match her personality. Let's make sure she's both confident and stylish as she catches those gnarly waves and rides them like a pro!
In Tropical Vacation Destination, the power is in your hands to create extraordinary outfits for our model's dream getaway. So, embrace your inner fashionista, mix and match different pieces, and let your creativity run wild. Get ready to make a splash in the Maldives, dine in style in Bali, and conquer the waves in Bora Bora. It's time to make fashion magic happen!