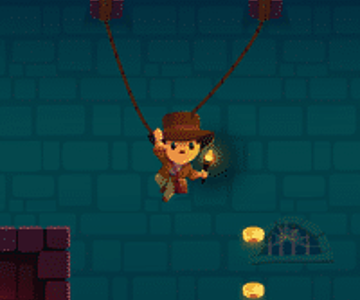 Prepare for some exploration and make sure you are ready to go through the dangerous caverns that await you in The Lasso of Fortune, a puzzle game that relies on your skills of navigation and of handling of a rope, which is the only thing that is standing between you, the treasures that you want to collect, and also the only thing that keeps you away from the dangers of the levels. As you try to reach your destination, the explorer in The Lasso of Fortune has placed the rope in various strategic places, and you have to carefully cut the rope in such a way that you dangle away from danger, and closer to either the key, which will take you to the next level, or to the coins, which you can collect.
While you go further down the cave, all sorts of traps and dangers can get in your way, and you will have to adapt if you want to succeed. For example, in some levels you have to evade huge spinning saws, or in other levels you can't cut certain parts of the rope, as it is made from a stronger material.
In order to advance through The Lasso of Fortune, you will have to correctly predict the direction of your swings, so you have to familiarize yourself with the unique properties that the character and the rope has. But after a few levels, after you learn how to move around in the environment, you will quickly swing from one treasure to another.
While the cavern you have to explore is an unfriendly one, which houses many dangers, the graphics and sounds manage to transform the world of The Lasso of Fortune into an exciting place, where each level poses a new challenge, but one that you can overcome.
Collect the treasures from the levels of The Lasso of Fortune when you play on Capy.com.
How to play
Use the left mouse button in the place you would like to slash the rope, if you are playing from a PC. If you are using a mobile device, tap the screen where you want to swipe the rope.