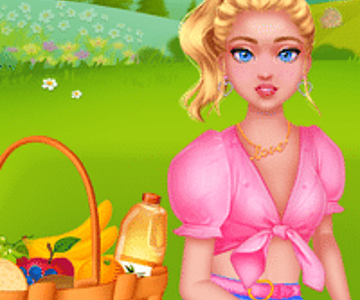 Welcome, girls, to the fabulous world of Summer Picnic Date! Get ready for a sizzling adventure with two love-struck cuties as they gear up for an unforgettable summer day at a picnic. It's time to bring out your inner fashionista and culinary genius!
Alright, darling, let's dive into the fruity frenzy! In the first level, you'll be the fruit maestro. Help our lovebirds choose the freshest, juiciest fruits for their picnic basket. From tangy oranges to succulent berries, make sure they have a rainbow of flavors bursting in their mouths. But hold your horses, we've got more to do! It's sandwich time, and you're the sandwich superhero. Whip up some scrumptious sandwiches and artfully arrange them in the basket. After all, a picnic without sandwiches is like a fashionista without her accessories - simply not happening!
Now it's time to work that fashion magic, honey! In level two, you become the personal stylist for our lovely lady. Choose the trendiest outfit from head to toe, making sure she looks hotter than the summer sun. Mix and match different tops, bottoms, and accessories to create a jaw-dropping ensemble that will leave everyone breathless. Remember, fashion is your superpower, and there's no limit to how fabulous you can make our leading lady look!
Drumroll, please! It's decoration time, and you're about to turn the picnic spot into a whimsical wonderland. In level three, let your creative juices flow as you select the perfect picnic blanket pattern, refreshing beverages, mouthwatering snacks, twinkling lights, and oh-so-sweet desserts. You have the power to transform this picnic into a dreamy escape straight out of a fairy tale. Let your imagination run wild and create a jaw-dropping ambiance that will make hearts flutter.
Get ready for a rollercoaster of laughter, fun, and knowledge, all wrapped up in this awesome gaming experience! As you navigate through the levels, you'll not only have a blast but also learn valuable lessons about teamwork, creativity, and the joy of simple pleasures.
So, girls, grab your virtual picnic baskets and let's rock this Summer Picnic Date! It's time to unleash your fashion flair, culinary skills, and creative genius to create the most epic picnic adventure ever. Are you ready to make this summer a memory for the books? Let's go, and let the picnic magic unfold!