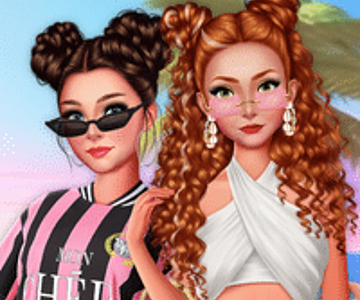 Get ready for a fashion frenzy that's gonna light up your screens, because Seven Stylish Days is here to serve you the fiercest, trendiest, and most jaw-dropping looks ever! It's a style showdown that'll have you screaming "Yas, queen!" as you dive into a week of fashion fabulousness with our seven stunning princesses. Grab your style scepter, because it's time to rule the runway!
Monday kicks off with Beachside Romance, where our princess is all about soaking up the sun in style. Picture this: flowing dresses, floppy hats, and sandals that are the definition of laid-back chic. They're strutting the shoreline like they own it, and oh, they totally do!
But hold onto your hats, because Tuesday is all about the boho bride-to-be. That's right, we're talkin' Boho Wedding Vibes! It's flowy dresses, flower crowns, and that carefree spirit that's so bohemian. It's like Coachella meets a fairy tale, and it's giving us all the feels.
Now, let's take a turn into Wednesday, where Glamorous Night Out is the name of the game. Sequins, glitter, and high heels that reach for the stars. This princess is stepping out in style, and the red carpet ain't got nothin' on her!
Thursday's all about Chic in the City. Think sleek suits, cool dresses, and a dash of attitude that's runway-ready. From board meetings to rooftop parties, this princess is showing the city who's boss.
But wait, there's more! Friday's bringing the grunge, and it's oh-so-cool. Distressed jeans, graphic tees, and that effortlessly edgy vibe that screams "I woke up like this." This princess iss rockin' the grunge look like it's nobody's business!
And of course, we can't forget about Saturday. It's Prom Ball time, and these princesses are dazzling like never before. Gowns that twirl, sparkling jewels, and hair that's worthy of the crown. It's a night to remember, and she owns the spotlight.
But hold onto your style tiara, because you're not just creating outfits! You're the master of accessorizing and makeup, too. From statement bags to jewelry that shines like the stars, you're the style whisperer they've been waiting for. And when it comes to makeup, you're giving them looks that slay all day. Once you've crafted these fierce ensembles, capture your creations! Download those jaw-dropping outfits, show them off to your squad, and let the world witness your style prowess. It's a style adventure that'll have everyone talking, so get ready to bring the fashion fire like never before!
So, gear up for Seven Stylish Days where each day brings a new wave of fashion magic. From beachside dreams to prom night dreams, you're the style icon they've been waiting for. The runway's waiting, and you're about to make it your kingdom!