School Popularity Challenge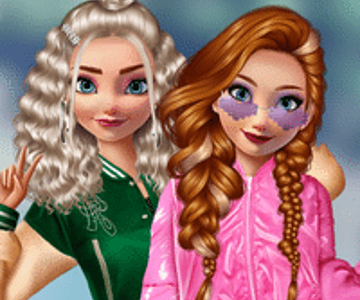 Get ready to dive headfirst into the ultimate showdown for school supremacy because School Popularity Challenge is here, and it's a sensational rollercoaster of style, friendship, and competition that'll leave you breathless and begging for more! It's time to spill the tea on this epic popularity quest with our fierce foursome.
Meet the Fab Four, the queens of cool in their school, and they're all vying for the coveted title of the most popular girl. But, there's a twist – they need your fashion genius to slay the school halls and leave everyone gasping for breath. Yes, you, the style sensation, are their secret weapon! The Popularity Challenge kicks off with a fashion face-off. Each of these lovely ladies is looking to wow their classmates, and it's your job to create the most jaw-dropping school outfits. From snazzy tees to flirty dresses, cool pants to sassy skirts, funky socks to fab footwear – the school wardrobe is your playground!
But hold onto your hairbrush because it's not just about the clothes. The hairstyles are on the menu too, and you've got to make sure they're as fresh as a morning breeze. Whether it's sleek and chic or wild and untamed, you're the master of hair transformations. And accessories! Don't forget the bling – statement jewelry, stylish eyewear, and chic bags that'll make them the talk of the campus. It's all in the details!
Now, when the outfits are on point, it's time to work your makeup magic. Create looks that are fierce and fabulous, complementing each girl's unique style. From bold lips to smoky eyes, you'll make them shine like stars in the school galaxy.
But here's the real deal – there's a jury vote at the end of it all. The girl with the highest score will ascend the throne as the school's most popular girl. It's a showdown of style, and the stakes are high! Once the verdict is in, it's time to capture your fashion masterpieces. Download those stunning looks, show them off to your clique, and let the world see your style prowess. It's a school fashion extravaganza that'll have everyone talking, so get ready to rule the school halls!
So, gear up for the School Popularity Challenge, where friendships are tested, styles are pushed to the limit, and the quest for the popularity crown is on! From casual chic to preppy perfection, you're the style guru these girls have been waiting for. The school runway is set, and you're about to own it! Are you ready to claim the throne as the school's style superstar?