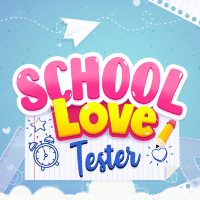 School Love Tester is a catchy game where you get to test your love and see whether the person you like is a proper match for you. What makes School Love Tester unique and different is the fact that this game is indeed very immersive and focused on bringing in an exciting gameplay with lots of unique ideas into the mix.
The main focus here is to add your name and the crush's name, age, gender, and then you can go into the more complex things too. These can be height, eye color or weight as well. It's an interesting way to compare yourself with your crush and see if you are a good match for them or not. It's a very creative thing and one that helps push the experience to new heights while offering a nice way to make some comparisons. That's what truly makes it so unique and immersive.
If you always wanted to see whether a person you like is a good match for you, the School Love Tester is an interesting opportunity. Obviously, there are no guarantees, but this is a game that will show you some interesting results and it's definitely worth a shot, you can find it here!