Princesses Fantasy Makeover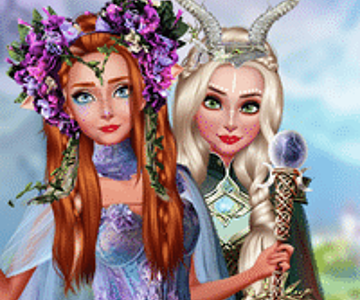 OMG, glitterati and fantasy fanatics, brace yourselves for the most spellbinding, magical makeup game in all the kingdom! Introducing Princesses Fantasy Makeover - a free to play girl game designed for all the fabulous dreamers out there who love a good dollop of enchantment with their beauty routine.
Picture this - four royal princesses, each hailing from a fantastical world bursting with enchantment and mystery, ready for your magic touch! Unleash your creativity and imagination in the makeup level, where a veritable treasure trove of beauty products awaits you. Choose from a dazzling array of eyeshadow hues, as shimmery as a morning dew on a fairy's wing. Shape those brows into arches as majestic as a rainbow bridge, and choose lashes that flutter like magical butterflies. And don't forget the mesmerizing eyes! With colors as striking as the most exotic gemstones in the kingdom, they'll be sure to hypnotize all who dare to gaze upon them.
But that's not all, glam squad! In the dress-up level, the fantasy ramps up to a whole new level! Don your warrior princess gear with an epic assortment of outfits, all worthy of a heroine in a grand adventure. Whether you're imagining a dragon-slaying dame or a spell-casting sorceress, there's something to suit your every fantasy.
Top off your look with a dazzling 'do and choose from a myriad of hair styles, as wild and untamed as the mythical creatures you're about to face. Don't forget to accessorize! Weaponry isn't just for battling evil forces - make it a part of your ensemble and prove that princesses can look fabulous and kick butt at the same time. Hair accessories aren't just functional, they're the perfect finishing touch to your fantastical look!
So, glamazons and warrior princesses, are you ready to embark on the most magical journey of your life? Dive into the enchanted world of Princesses Fantasy Makeover and let your imagination run wild!