Princess Chronicles Past & Present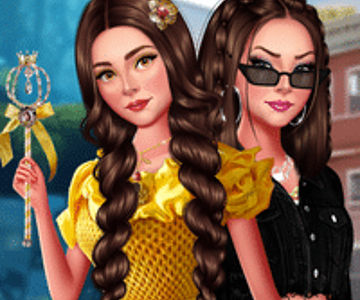 Step into the enchanting world of Princess Chronicles Past & Present, where fairy tales come to life, and fashion reigns supreme! Get ready to embark on a magical journey with four iconic princesses: Anna and Elsa, the sisters from the beloved film Frozen; Belle, the beauty from Beauty and the Beast; and the brave Merida. These regal ladies find themselves in the modern world, attending one of the most prestigious schools ever! But fear not, they'll need your expert help one last time to create the most wondrous and magnificent farewell outfits as they bid adieu to their magical lands.
As our princesses step into the modern world, they can't help but feel a pang of longing for their enchanted realms. So, they turn to you, the ultimate fashion maven, to weave your style magic once more!
Dive headfirst into the lavish wardrobes of each princess, brimming with exquisite garments that perfectly represent their fairytale worlds. From sparkling gowns to enchanting dresses, it's a fashion treasure trove waiting for your touch! Mix and match the most captivating outfits, ensuring they leave their kingdoms in style and grace.
But it doesn't stop there! A princess's look isn't complete without the perfect makeup and accessories. Delve into the world of elegance and charm, choosing the most fitting makeup to complement their outfits and accessorize like the true royalty they are. From dazzling tiaras to elegant necklaces, these princesses will radiate like the stars in their kingdoms!
Once they've bid their final farewells to their magical realms, it's time for them to conquer the modern world's fashion scene. They need your expert advice to navigate the coolest trends and looks, fit for the fabulous divas they truly are!
From chic streetwear to glamorous red carpet ensembles, you'll be their go-to stylist in this thrilling adventure. Each princess has her unique style, and it's up to you to make them stand out in the modern world while keeping their royal essence intact.
As you journey through the Princess Chronicles Past & Present, you'll not only get a taste of fashion and fun but also learn the importance of embracing individuality and celebrating different cultures. Plus, you'll discover that true style knows no boundaries, whether in the magical realms or the modern world!
So, get ready to join Anna, Elsa, Belle, and Merida on their epic fashion adventure. Create dazzling outfits, stunning makeup looks, and accessorize like royalty! And the best part? You can download the images you create and share them with your friends, spreading the fashion magic far and wide! Prepare to be enchanted by Princess Chronicles Past & Present, where dreams, fashion, and friendship collide in the most magnificent way! The fashion kingdom awaits your arrival!