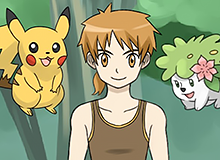 Now, this is an awesome game made by Joy Ling, you can create a pokemon trainer female or male with tons of options, and colors and you also have a big variety of Pokemon to choose from. Here is what the artist said about the game:
Finally, after nearly nine months of development, the Pokémon Trainer Creator is complete! This customization game includes:
The option to choose between a male and female character.
A variety of hairstyles, eyes, facial expressions, clothes, and Pokémon to choose from.
Several backgrounds and an option to hide the UI so that you can take a screenshot of your character.
Color sliders that allow the user to customize the color of the character's accessories.
Hidden features that can be unlocked by solving puzzles!
I hope this game inspires people to come up with unique designs for their own Pokémon characters. Feel free to share your screenshots or fanart!