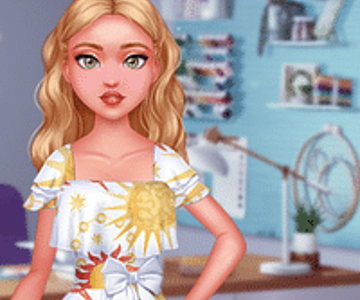 Hey there, fashion divas! Get ready to unleash your creativity in the ultimate dress-up game. Meet our girl who's on a mission to create her own fabulous dress. And guess what? You're the mastermind behind this fashion extravaganza!
You've got the power to choose from a wide range of dress designs, sleeve styles, and a rainbow of colors and patterns. It's like being a fashion designer, baby! Mix and match to create a one-of-a-kind masterpiece that will turn heads and drop jaws.
But hold on, that's not all! Once you've nailed the dress, it's time to complete the look with a killer hairstyle, trendy handbags, stunning jewelry, and all the hottest accessories you can imagine. We're talking about a full-on fashion transformation, girls!
So, get ready to dive into the ultimate fashion frenzy. With your style savvy and killer instincts, you're about to create the most jaw-dropping outfit this girl has ever seen. Get ready to slay the fashion game, one stitch at a time!
Are you ready to take on the challenge, my fashion-forward friends? Let the dress-up magic begin! It's time to show the world your style skills and make this girl shine like a Hollywood superstar. Get your fashion groove on and let's create a fashion revolution that will leave everyone in awe!