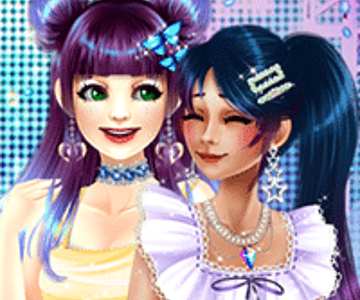 Have you ever noticed the amazing style of Kpop artists and wondered how they pull off such an incredible look? Well, now's your chance to take a step into their fashionable shoes with My Own Kpop Band!
These four bffs have a lot in common, they share the same passions of fashion and music, with their one obsession being a KPop star. After after much rehearsal and preparation, they're finally ready to take the stage for their first concert! But the biggest obstacle standing in their way is finding the coolest KPop outfits that show off each of their unique personalities. If you want to help these future international stars shine on stage, play this fun fashion game for girls! Help these bffs pick out the perfect KPop outfits and get one step closer to building an amazing band!
This fun and interactive dress up game takes you right into the glamorous world of Hollywoodian designers, giving you the opportunity to choose the most amazing outfits for four brand new Kpop stars in the making. All it takes is a little spark of creativity and imagination to craft some exceptional looks fit for any idol stage. So why not have some fun and get ready to start dressing up your idols!