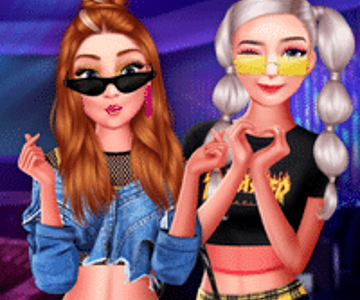 What's up, fashionistas? It's time to help out Anna and Elsa, the two coolest sisters from the land of ice and snow, in this dress-up game for girls. These girls have been transported to the modern world, but they have no clue how to dress or act like us normal folks. That's where you come in, girl! It's your job to help these ice princesses turn into fashion divas!
Let's start with the basics. Anna and Elsa are used to wearing fur and boots, but that's not going to fly in this world. They need to find some cool and trendy outfits for school, so they can fit in with the other students. Think denim jackets, graphic tees, and ripped jeans. And don't forget the accessories! They need some sunglasses and cute backpacks to really complete the look.
But it's not just about school. These girls have been invited to a party, and they need to bring their A-game. They need to turn heads and show everyone how cool they are. So, think cool dresses, fashionable jackets, and killer accessories. And don't forget about the makeup and hair! They need to look flawless from head to toe.
Let's be real here, these girls are not used to the modern world, so they need some serious help. That's where you come in, girl! Show them the ropes and help them navigate this crazy world of fashion. You got this, girl!
So, let's get to work and turn these ice queens into fashion icons. It's going to be a wild ride, but with your help, they'll be the coolest girls in town!