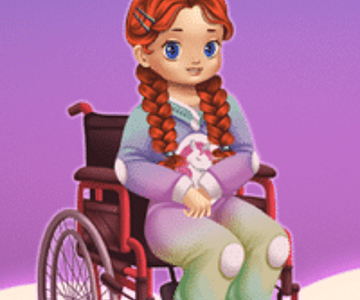 Hey girl, get ready to experience a fabulously girly game called Miranda's PJ Party! This game follows the story of two besties who are getting ready for a pajama party. One of the girls, Miranda, is a wheelchair user, but that doesn't stop her from living her best life, especially when she has her BFF by her side.
This game is all about glamming up the girls for the party, with a makeup and dress-up level for each of them. You can experiment with different looks and styles to create the perfect party outfit. And in the final level, you can choose from a variety of stickers, patterns, and colors to make the wheelchair reflect Miranda's personality and style.
Miranda's PJ Party is all about celebrating friendship and inclusivity, showing that no matter what challenges you may face, you can still have fun and be fabulous with your besties by your side. So, gather your girlfriends and get ready for a night of fun and fashion!
Overall, Miranda's PJ Party is a fun and heartwarming game that teaches valuable lessons about friendship, and it's perfect for all the girlie girls out there who love a good dress-up game. Get ready to slay at the party and show off your fashion skills!