Kiss, Marry, Hate Challenge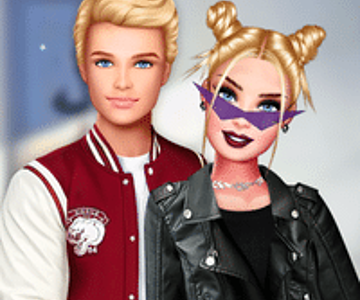 Kevin's life has turned around ever since he transferred to the coolest school in town and joined the football team. Now, suddenly, girls are swarming around him. Three of his newfound friends want to know if they can win the heart of the ever-popular new boy, so they come up with a contest! Each of them decides on a style of dress that she likes and puts on her best fashion show for Kevin. Will one girl be his taste?
This popular game for girls is lots of fun and encourages players to dress up these cute characters. One will dress in grunge rock style, one in soft girl style and lastly one in a cool schoolgirl style, after raiding their wardrobes for the perfect look - of course, accompanied by appropriate makeup! It isn't complete without accessories, such as glasses, bags and jewelry adding those special finishing touches. Then it's Kevin's turn to judge - he'll surprise them by choosing who he would like to Kiss, Marry or Hate! Play this funny and fascinating game today something you're sure to enjoy!
Are you ready for the Kiss Marry Hate Challenge? So come on girls, join in on this great dress up game and keep coming back for more girl games made just for you!