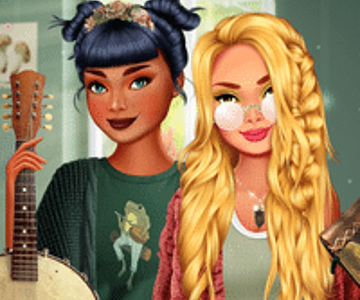 Are you ready for a magical adventure? Step into the world of Goblincore Aesthetic, a dress up game like no other! This is your chance to explore what lies beyond in this enchanted land and express your creativity.
Four friends are having a great time embracing goblincore style! They select only the coziest oversized sweaters in all possible shades of earth tones: green, brown, sand, etc. To complete the look they add custom-made jeans and overalls to their wardrobe staples as well. Nothing irreverent would do for them - they chose socks with unique patterns and colors in order to express their individual creativity. In addition, they make sure their accessories match their outfits perfectly: alchemists' pouches give an extra oomph to their looks, while satchels keep all special items safe when they go out collecting shiny objects together. They top off their amazing goblincore style with intricate makeup, creating an edgy but awe-inspiring aesthetic that's truly one of a kind! It's so inspiring to see these trendsetters redefining fashion.
Unlock the hidden secrets of this kingdom and discover new surprises at every turn. If you enjoyed this journey by playing Goblincore Aesthetic, come back tomorrow for more exciting games for girls waiting to be explored!