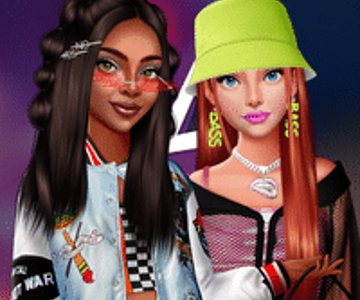 Get ready to ignite the fashion scene, darlings, because Fashionistas' Faceoff is about to take you on a wild ride through style, attitude, and pure glam! Picture this: eight sassy and fabulous princesses stepping out of their enchanted castles and into a world bursting with vibrant colors, crop tops, denim and leather galore, the sassiest of tights, oversized jackets, ripped jeans, statement jewelry, hairstyles that slay, and the coolest bags and backpacks you've ever seen. It's a fashion frenzy like no other, and you're at the helm of the style revolution!
In this fierce and fabulous game, you're the ultimate fashion guru, guiding each princess through a whirlwind of trendy ensembles. It's time to give these royals a taste of the coolest teen styles, fit for the red carpet or a night out on the town. Hold onto your hats, folks, because the fashion faceoff of the century is about to begin!
Imagine this: four princesses channeling their inner divas, rocking vibrant colors that light up the room like neon signs. Crop tops, denim shorts that defy gravity, and leather jackets that scream "daredevil chic." But oh, don't you worry, because tights of all patterns and textures are here to play, too! And those oversized jackets? Honey, they're the very definition of laid-back glam.
And let's not forget about those ripped jeans that add that extra edge to the look. Statement jewelry? Oh, you bet! They're rocking it like fashion warriors, and every accessory tells a story. Hairstyles that range from fierce to fabulous, complemented by bags and backpacks that are the epitome of cool. Who needs a wand when you've got the power of fashion in your hands?
But hold onto your sequined hats, because it's not just about the clothes! It's about the makeup, too! From bold lips to dramatic eyes, you're the master of the makeover, creating looks that leave a mark and slay the fashion game.
And here's the real kicker: once you've unleashed your style prowess, you can capture your masterpieces! Download those jaw-dropping outfits, show them off to your posse, and spread the fashion fever to your closest pals and family. It's a runway-worthy reveal that will have everyone talking!
So, get ready to strut your stuff and put your fashion skills to the test with Fashionistas' Faceoff. It's a showdown of style, a clash of colors, and a celebration of individuality that will leave you and your friends shouting "OMG, slay!" from the rooftops. The fashion world is at your fingertips, darling!