Ellie: You Can Be Anything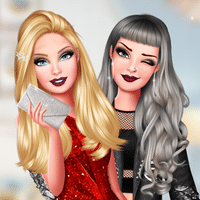 Ellie is an amazing girl who loves to express herself through fashion. Ellie believes that style doesn't matter, as long as you feel great in your own skin, and she wants to prove it with Ellie: You Can Be Anything! You get to choose from seven clothing styles for all sorts of occasions: Ellie can dress up for an elegant event or rock a tomboy look for a concert; Ellie can wear the cutest pajamas for a sleepover, and even put the coolest outfit together for the first day of school. No matter what Ellie wears, it's always stylish - because everyone knows that princesses can wear hoodies too!
Ellie: You Can Be Anything is an awesome dress up game for players of all ages! It's a fun and creative way to explore different looks and styles. Forget everything that's going on outside, jump into Ellie's world, have some fun and practice your skills as a top fashion designer! Even if you've already fired up the game before, come visit us in the future to experience more games for girls. We have tons of free to play games that we've been creating for years - all aimed at giving you the boost of joy and happiness you need. So put on your fashionable mood and get ready for an amazing adventure with Ellie!