Dress To Impress Back To School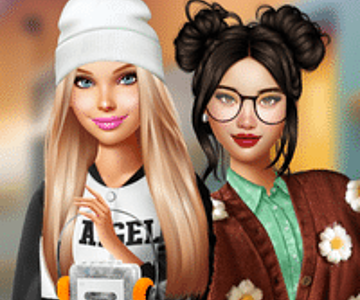 Get ready to kick off the school year in style, because Dress To Impress Back To School is here, and it's a sensational showdown of fashion, friendship, and fabulousness that's going to have you strutting your stuff down the school halls like never before! It's a style competition of epic proportions, and it's all about showing off your fashion prowess.
Meet Babs and her three BFFs, the ultimate squad goals. As the school year begins, they've decided to up the ante and make their grand entrance with a fashion competition that'll leave everyone in awe. It's a friendly battle to see who can rack up the most style points and win the coveted title of the school's fashion queen! Four different style personas await – from casual chic to preppy perfection, it's time to create the most jaw-dropping outfits for each of these fashionistas. Let's dive into the closet of possibilities, darling! From trendy tees to stunning dresses, cool pants to twirl-worthy skirts, funky socks to killer kicks – the school wardrobe is your canvas, and it's time to paint with style!
Accessories are key, honey! Statement jewelry, fabulous eyewear, and bags that scream "fashionista on the prowl." It's all about the details, and you're the master of accessorizing. And when it comes to hairstyles, you've got to make sure they're on point – from sleek and chic to wild and untamed, you're the ultimate hair guru.
But that's not all – makeup matters too! Create looks that are bold, dramatic, and perfectly matched to each style persona. From glittering eyes to bold lips, you're the makeup artist of the moment.
Now, after you've transformed Babs and her BFFs into style sensations, it's time to see who takes home the crown. Each contestant will receive a rating from 1 to 100, and the winner will be declared the school's ultimate fashion queen!
Once the scores are in, it's time to capture your fashion masterpieces. Download those stunning looks, show them off to your crew, and let the world see your style prowess. It's a fashion competition that's going to have everyone talking!
So, gear up for Dress To Impress Back To School, where fashion reigns supreme, friendships are forged, and the school runway is your kingdom. From casual cool to fabulous chic, you're the style guru these girls have been waiting for. Are you ready to claim the title of the school's fashion queen?