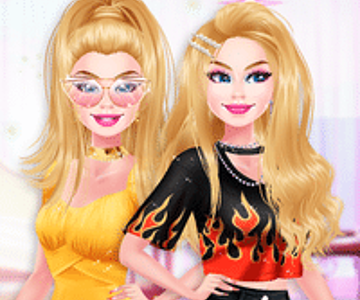 Are you ready to embark on a glamorous journey filled with mystery and style? Get ready to immerse yourself in the world of the Diva Vs Mystery Boxes, a delightful game designed just for you!
In this sensational game, you'll follow the captivating story of a young girl with an eye for fashion, limited only by her budget. She has the opportunity to purchase extraordinary boxes filled with hidden treasures. Each box contains 1, 2, or 3 exquisite clothing items, accessories, or dazzling jewelry pieces. And the best part? Each box comes with a fixed price, so you can plan your spending accordingly!
Once our fashionista heroine makes her purchase, she'll excitedly open each box, revealing its glorious contents. Her wardrobe will be instantly upgraded with these fabulous finds. But here's where the real fun begins! It's up to you, dear player, to help her create her very own look using only the items discovered in the boxes. Show off your creativity and fashion flair by mixing and matching these treasures to create stunning ensembles.
Our fashion-forward heroine cares deeply about your opinion. After creating her look, she'll eagerly ask you if you're satisfied with the contents of each box. Your feedback is crucial in shaping her style journey, so don't hold back! If you decide to replay the game, the contents of the boxes will magically change, providing endless opportunities for fashion exploration and surprises.
Now prepare to be dazzled by the enchanting world of the Diva Vs Mystery Boxes. Unleash your inner fashionista, discover hidden gems, and let your unique style shine! Remember, in this game, you are the ultimate trendsetter, making fashion choices that will inspire and empower our heroine. Get ready for an exciting and stylish adventure like no other!
So, are you ready to immerse yourself in the captivating world of fashion, glamour, and endless possibilities? Let the adventure begin!