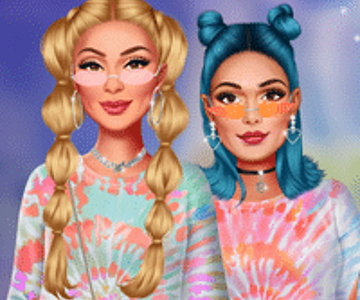 Hey, hey, hey, what's up, young fashionistas? Get ready to learn while having some serious fun with this super cool dress-up game! It's all about tie-dye and personal expression, so listen up!
You'll be hanging out with four fabulous girls who are all about self-expression and creativity. They each have their own unique style and they want to show it off by creating their own tie-dye tops. You get to help them bring their vision to life!
First, you gotta pick the style of top you wanna rock - crop tops, long-sleeve shirts, tank tops, or tees. Once you've chosen, it's time to get groovy and start tie-dyeing! You can use all sorts of colors and patterns to create something totally unique and totally YOU.
But hold up, ladies! This game is more than just a fun way to kill time. It's also a lesson in creativity, self-expression, and individuality. We live in a world where it's so easy to follow the crowd and try to fit in, but this game is all about standing out and being true to yourself.
So, get creative, experiment, and most importantly, have fun! When you're done tie-dyeing your top, mix and match with some killer accessories and bottoms to create a totally awesome outfit. You'll be a trendsetter in no time!
Remember, girls, never be afraid to express yourself and show off your unique style. It's what makes you, YOU! Now, let's get tie-dyeing!