Clash Of The Deep Sea Monsters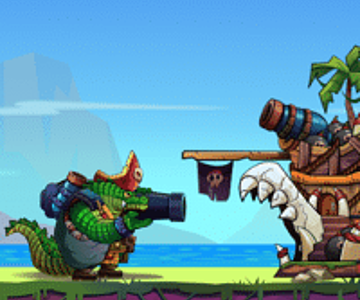 Fight against fantastical sea creatures when you play Clash Of The Deep Sea Monsters on Capy.com, outsmart your opponent and destroy their base before they destroy yours. Clash Of The Deep Sea Monsters is a strategy game, so you will have to deploy various units on the battlefield to win. And although you can't directly take control over these units, you have to carefully choose which ones you want to send into battle, from a random selection. On the bottom of the screen the units that you can call forth show up, and you have to quickly decide which ones are the best for your current situation. So you have to take into account your current units, as well as the units that the enemy has coming towards you.
Money is slowly regenerated as you play, and each unit has a specific cost associated with it, and while sometimes the best strategy is to wait to have enough resources to deploy a stronger unit, you don't always have this luxury, and you can't wait. Each unit has a specific set of strengths and weaknesses, as well as the specific ways they can attack, and knowing these can be the difference between victory and defeat.
The world of Clash Of The Deep Sea Monsters is an immersive one, and the art style will immediately grab your attention, and you can tell that each unit has a unique personality, just looking at them. While they either walk or slither towards the enemy base, you can quickly figure what sort of attacks they have, and how strong they are. Together with the intense music, you really feel like you are fighting a tough battle against equally formidable foes. Each moment in Clash Of The Deep Sea Monsters carries with it lots of weight, and deciding between saving up resources for a better unit or sending more units into battle now is something that you will have to learn to balance if you want to become victorious. And what's more, because you can't control what units will become available in the stack, you will have to take risks and hope for the best a lot of the times.
Win the battle in the fantastical world of Clash Of The Deep Sea Monsters when you play on Capy.com.
How to play
Use the left mouse button to interact with the elements of the game, if you are on a PC. If you are using a mobile device, tap the screen to make your choices.