Celebrity Style and Outfits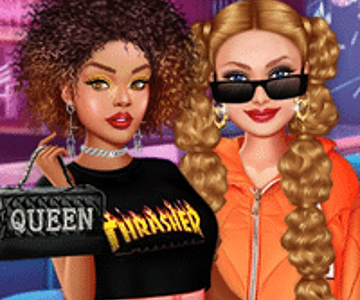 Step into the glamorous world of Hollywood with Celebrity Style and Outfits, a fabulous game that lets you play stylist to four stunning celebrity dolls. Get ready to dive into the glitz and glam as you help these celebrities achieve their perfect looks. With its friendly and educational approach, this game is a must-play for all fashion enthusiasts!
First up is our lovely doll who's getting ready for a night out at the hottest club in town with her friends. It's party time, and she needs your expertise to choose the trendiest makeup and coolest outfit. Explore a wide range of makeup options, from dazzling eyeshadows to bold lip colors, and find the perfect ensemble to make her shine on the dance floor.
Next, we have our glamorous celebrity who's about to board a private jet. Regardless of the destination, she always wants to look irresistibly attractive! As her personal stylist, it's your mission to select the most alluring makeup and outfit combinations. Unleash your creativity and experiment with elegant dresses, stylish accessories, and glamorous hairstyles to make her the center of attention wherever she goes.
Our third celebrity is enjoying a relaxing day by the pool at her lavish mansion, but she needs your help to achieve a cool and fashionable look. Dive into a wide array of makeup and outfit options that reflect her laid-back yet stylish personality. Mix and match trendy accessories, cool outfits, and outstanding hairstyles to create a look that exudes both comfort and sophistication.
Last but not least, our fourth celebrity is currently in the recording studio, preparing to record her latest hit. Whether she's rocking out on stage or taking a breather, she always wants to captivate everyone around her with an envy-inducing look. Take charge of her style, selecting from a plethora of makeup palettes, edgy clothing options, and statement accessories. With your help, she'll be the epitome of style and charisma during her recording sessions.
In Celebrity Style and Outfits you'll experience the thrill of being a fashionista and a celebrity stylist. Embrace the challenge of choosing the perfect makeup, hair, and wardrobe for each celebrity doll. Let your creativity run wild, mix and match different styles, and create stunning looks that will turn heads wherever they go. Are you ready to become the go-to stylist for Hollywood's elite? Start playing now and unlock the secrets of celebrity fashion!