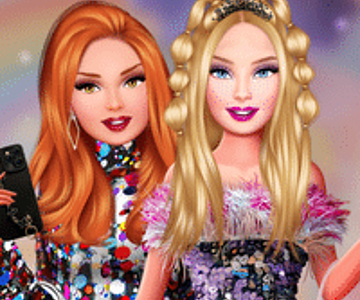 Hey there, fashionistas and party lovers! We've got the inside scoop on the hottest new game in town, Bestie Birthday Surprise. Get ready to dive into a world of friendship, fashion, and fabulousness! This game is all about celebrating the power of friendship and making someone's special day unforgettable.
Meet our leading lady, the birthday girl herself, who is feeling down in the dumps because she thinks her BFFs have forgotten her big day. But little does she know, her three besties are secretly planning the most epic surprise party ever! It's up to you, the player, to help each BFF pick out a jaw-dropping party outfit from our protagonist's overflowing wardrobe, along with the perfect hairstyle, accessories, and jewelry. And let's not forget the flawless makeup to complete the look!
Once the BFFs are dressed to the nines, it's time to head over to the birthday girl's house and give her the surprise of a lifetime. Imagine her delight when she opens the door to find her three best friends standing there, armed with a mountain of presents! From sparkling jewelry to trendy fashion items, the birthday girl will be spoiled for choice.
But the surprises don't end there! As the player, you have the crucial task of selecting a show-stopping outfit that will leave everyone breathless when the birthday girl steps out. With your keen fashion sense and impeccable taste, you'll have the power to make her shine like a superstar. Don't forget to top it off with the perfect makeup look to match the ensemble!
And here's the cherry on top: you'll have the opportunity to capture this magical moment by saving a picture of the four besties, all dressed up by none other than you! Talk about a keepsake to cherish forever.
So, get ready to embark on an unforgettable adventure filled with fashion, friendship, and fantastic surprises Bestie Birthday Surprise will not only keep you entertained for hours but will also teach you the value of true friendship, the importance of celebrating others, and how a little bit of love and effort can make someone's day unforgettable.
Download the game now and let the fashion frenzy and birthday joy begin! Get ready to party like never before and remember, friends who surprise together, stay together!