Babs' Style Quest Beyond Pink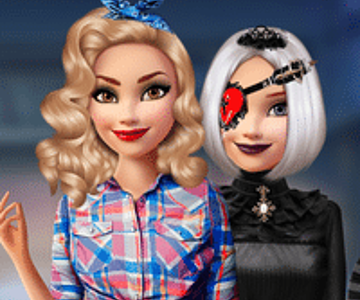 Get ready to embark on a style quest like no other, because Babs is shaking things up in Babs' Style Quest Beyond Pink, and she's calling on your style savvy to help her rock some brand new looks! It's a dazzling journey of self-expression, fashion, and transformation that's bound to leave you inspired and ready for anything!
Meet Babs, the ultimate pink princess. She's been all about that rosy hue since forever, but today, she's decided to break free from the pink bubble and embrace a whole new world of style. And guess what? You're her partner-in-crime on this epic fashion adventure! Babs is ready to explore four different fashion personas: Pin-Up, Black Lolita, Biker Girl, and Baddie. It's a style buffet, and you're the chef, ready to whip up the most fabulous outfits for each of these personalities.
Let's talk clothes! From sassy tees to chic dresses, edgy pants to flirty skirts, daring socks to killer kicks – the wardrobe is your playground, and it's time to experiment with new styles and colors. And don't even get us started on the accessories – statement jewelry, fabulous eyewear, and bags that scream "fashionista on the loose." It's all about the details, and you're the master of accessorizing.
But wait, there's more! The hairstyles are in your hands, and you've got to make sure they're as fierce as Babs' newfound style. From sleek and chic to wild and untamed, you're the ultimate hair guru. And let's not forget about makeup, darling! Create looks that are bold, dramatic, and perfectly matched to each style persona. From smoky eyes to glossy lips, you're the makeup artist of the moment.
Now, after you've transformed Babs into a style chameleon, it's time to capture your fashion masterpieces. Download those stunning looks, show them off to your crew, and let the world see your style prowess. It's a fashion quest that'll leave everyone talking, so get ready to inspire and slay!
So, gear up for Babs' Style Quest Beyond Pink, where boundaries are broken, and fashion knows no limits. From classic pin-up to edgy baddie, you're the style guru Babs needs to redefine her look. The fashion runway is set, and you're about to own it! Are you ready for this style transformation journey?