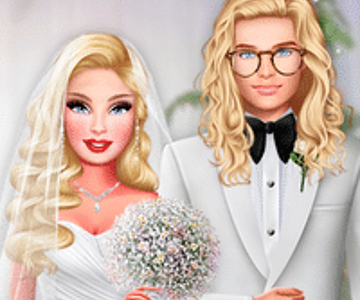 Hey, fashionistas! It's wedding season and we've got the ultimate dress-up game for you. Meet Babs and Kevin, the super-cute couple tying the knot on a beautiful spring day. And let's not forget about their three amazing bridesmaids who need your help to look fab!
Babs is a total babe, but she needs the perfect dress to match her beauty. And Kevin, well, he's looking sharp in his suit, but he could use a little help accessorizing. As for the bridesmaids, they're all gorgeous, but they want to stand out on this special day.
That's where you come in, fashion adviser extraordinaire! You've got access to all the latest spring trends, from bold prints to pastel hues. You'll have to mix and match to create the perfect looks for these lovebirds and their bridal party.
But don't worry, you're not alone on this fashion mission. You'll have access to all sorts of cool accessories, like funky jewelry and statement shoes. And you can't forget about hair and makeup – these ladies need to be picture-perfect!
So, what are you waiting for? Get ready to make some serious style magic happen for Babs, Kevin, and their bridesmaids. This is the wedding of the year, and you've got the power to make it look absolutely stunning!